What was referred to as a personal floatation device is now more commonly known as a lifejacket. A lifejacket can be best described as a floatation device that is designed like a suite or a vest and one that is fastened to an individual to prevent them from drowning in the water. Some of the other names used for this device are life saver, life preserver, floatation suit, Mae West and buoyancy aid. While a lifejacket is used by a large number of people who participate in water based adventure sports, you might have the question – should we wear a lifejacket kiteboarding?
Generally, a lifejacket is not required while kiteboarding but if you want to wear it as a precautionary measure, you can. You might have seen a few people participating in a kiteboarding activity without wearing one. However, you must know and remember that wearing a lifejacket or a floatation vest is one of the best safety measures to take when you go kiteboarding.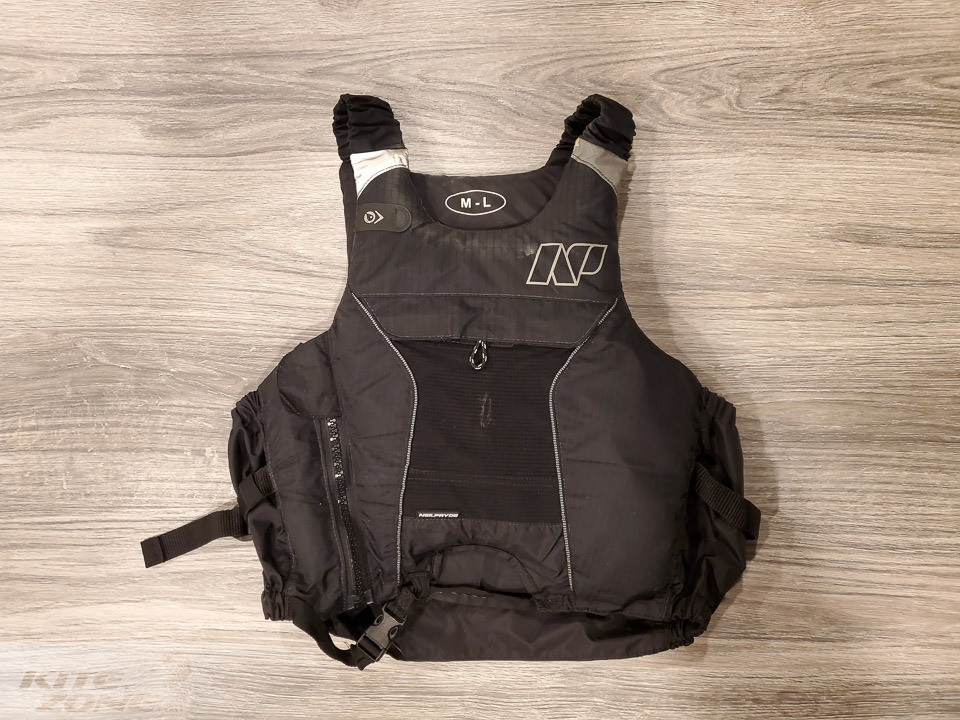 Why life jacket is not mandatory in kiteboarding?
The kite has a tendency to pull you out of the water and as long as you are connected to it, you have no problem staying on the surface.
While there is no disadvantage to wearing a lifejacket, kitesurfers, especially the ones who are just starting out, might feel a little bogged down or perturbed by its weight. If wearing a lifejacket makes you feel extremely uncomfortable, you might avoid wearing it till the time you are mentally okay with the idea of wearing it. Many seasoned kiteboarders don't wear a lifejacket as they are confident about their skills. However, it is important to remember that accidents can happen to anybody and it would be advisable to adhere to all the safety measures.
Do you Mike wear a lifejacket when kiteboarding?
I do not wear a lifejacket when kiteboarding. I have been kiteboarding for more than 18 years and I used a lifejacket only when I was learning to ride on a foil board.
However, I have had times in my career where I regretted not having a lifejacket. Therefore, the best answer to this question is that you have to be flexible and depending on the spot and conditions, it is worth using it.
Do you have to wear an impact vest while kiteboarding?
No, you don't need an impact vest for kiteboarding as long as you don't do any tricks or try to pull off a stunt while participating in this sport. As long as you do things in an organized manner, there is little chance of you hurting yourself. Having said that, there is no harm in wearing an impact vest as it helps in avoiding the possibility of the user drowning in the water when if you have any kind of problems.
Will you be able to float with an impact vest?
No, not all impact vests help you stay afloat. You will come across many impact vests in stores that are made with extremely thin material and offer limited or no floatation. Most impact vests are designed with the purpose of offering comfort, adding a dash of style and protecting you to a certain extent if you have a bad fall. If you want to invest in a vest that will help you stay afloat on water, you should buy a GGA or Coast Guard Approved Test. My brother gifted me one when I started kiteboarding six years back and it worked very well for me.
What will an impact vest do?
An impact vest is supposed to protect you from a fall while participating in an adventure sport or any other activity wherein you are moving at a very high speed. A good quality impact vest can really help you in protecting your bones from breaking when you fall badly because of experiencing a strong force or other reasons. It does a good job of absorbing the impact of the fall when your body hits the water or land and ensures minimal injuries to your body.
Related Questions
What should you wear during kiteboarding?
These days, there are multiple options available for those trying to pick the right costume for kiteboarding. While it is okay to experiment a little with your kiteboarding costume and accessories, you must get the basics right to ensure that you remain safe and feel comfortable while engaging in this activity.
Here is a list of clothes and accessories that you should invest in when you decide to go kiteboarding.
Wetsuit
Just like most other water sports, one of the most important things you need to invest in while deciding to go for kiteboarding is a wetsuit. There is one important thing you need to remember here. While most wetsuits are designed for water sports, they come in different varieties. Not every wetsuit that you come across in a store would be right for you to wear during kiteboarding. The wetsuits that are made for kiteboarding boast certain specialized features and are designed to help you stay on the water for a long time.
Kiteboarding wetsuits are made with a material called neoprene that contributes towards improving the body's flexibility and helping the riders enjoy this sport to its fullest. The outer layer of these wetsuits is made with the kind of components that lend them durability and ensure that they don't get damaged easily. If you happen to participate in a competitive kiteboarding tournament, it would be advisable to choose a specialized kiteboarding wetsuit over a generalized costume.
Board Shorts
A lot of people make the mistake of wearing regular or cycling shorts while kiteboarding. Wearing tight shorts is one of the biggest blunders you can commit while kiteboarding. While kiteboarding, it is important to wear board shorts that are comfortable and lightweight at the same time.
These shorts are made with the kind of material that is soft, long-lasting and dries up quickly. These also feature a tie at the front to make sure they don't slip away under any circumstance. The flexible fabric allows you to be as flexible as you want to.
They also help when scrubbing the sand with your bottom and not rubbing your expensive wetsuit.
Swimwear
If you are planning to kitesurf during the summer season, then wearing swimwear instead of an ensemble kiteboarding costume wouldn't be a bad idea. A good quality swimwear would serve as a good alternative to a wetsuit when the weather is warm and sunny. When it comes to swimwear, you have a variety of options ranging from a bikini to a pair of swim shorts to choose from.
Poncho
Since you are participating in a water based sport, it would not be a bad idea to carry something that helps warm yourself up once you get back on the land. Ponchos are no-fuss clothing that is used by many to cover or warm themselves up after they come out of a water body till they change their costume.
Accessories
Apart from getting the right costume, it is also important to buy the right accessories that will enhance your kiteboarding experience and make it more memorable. Booties, gloves and hoods are some of the most essential accessories that you must invest in. Accessories like these are extremely important for those who go kiteboarding during the winters.
While buying accessories, you must ensure whether they have been made specifically for kiteboarding or not. A simple way to find this out is by checking whether the accessories are made with neoprene material. Apart from protecting you from cold or heavy wind, accessories also safeguard you against injuries when an accident happens.