Kiteboarding or kitesurfing is among the most convenient and less expensive water sports that combine the aspects of various other adventure sports. As an extreme sport, kiteboarding requires better equipment and instruction. Though there have been instances of injuries and accidents in the beginning, the safety standards have improved a lot these days. Like some adventure sports, kiteboarding demands an understanding of the wind and water conditions to enjoy it fully. When a kiteboarder learns how to move according to the conditions, kiteboarding sessions can be full of excitement. Are you thinking of trying this sport? Are you wondering if you need kiteboarding lessons?
Generally, kiteboarding lessons are not required and it is possible for you to self-learn kiteboarding. However, you need to also consider the fact that it is a potentially dangerous sport. Hence, taking lessons in a professional licensed school is highly recommended.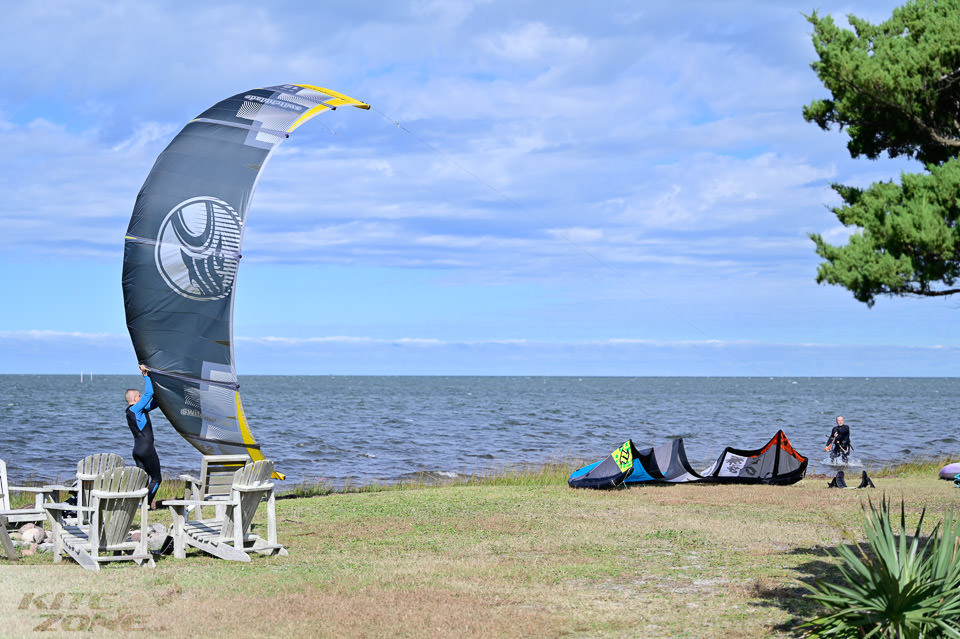 Do you need kiteboarding lessons?
Yes, all experts suggest you need kiteboarding lessons to practice kiteboarding sport. It will teach you the right techniques required for this sport, helping you to ride quicker. Hence, it will help you to save money even if the lessons are expensive. (Recommended article: 'Is Kitesurfing Hard to Learn?')
Why should you take kiteboarding lessons?
You need kiteboarding lessons because of various reasons. Kiteboarding requires multitasking as it involves more than one activity. While controlling the kite, you need to observe your surroundings and navigate, which can be extremely difficult at the beginning. Only the instructors or expert kiteboarders can teach you how to learn all of these quickly. It is also important to understand the basic wind theory and the water condition. Kiteboarding lessons help the learners with all such concepts in an organized session. Though the learning tenure can vary from school to school, kiteboarding lesion can teach you faster than self-learning.
How many lessons do you need for kitesurfing?
The number of lessons you need for kitesurfing can depend on many factors. Firstly, it depends on whether you have any prior experience in adventure sports like windsurfing or wakeboarding. Your confidence and skill matter a lot when you take kiteboarding lessons. Secondly, it may depend on the wind and water condition of the day you choose for training. If the conditions are poor, it might take longer than usual. Thirdly, it depends upon the skill and expertise of your instructor. The finer your instructor teaches, the better you perform.
Though the number of lessons varies from person to person, it takes at least three lessons. If you have any prior experience of windsurfing or wakeboarding and you can firmly stand on the board, you can learn kiteboarding within three to six lessons. If you are finding it very difficult, you may need six to twelve lessons. In my personal experience, I have seen some students learning kiteboarding in three lessons, whereas others have struggled and took more than twelve lessons. So, ultimately, it varies upon all the aspects mentioned above. (Recommended article: 'Do You Need a License to Kitesurf?')
Can you teach yourself kiteboarding ?
Yes, you can teach yourself kitesurfing if you are a good self-learner. However, it is not recommended by experts since kiteboarding is a high-risk activity that requires proper training. You need to have the knowledge of wind theory and a set of equipment to get started.
There are some precautions that you need to take if you want to self-learn kiteboarding. For learning purposes, you need to use a trainer kite. Make sure you have a life jacket and all the other necessary equipment such as a twin tip board. It is also essential to choose the perfect day and time to kiteboard as a lot will depend on the weather. Having a kiteboarder friend around will further help you to make sure there is enough safety.
Related Questions:
How much do kiteboarding lessons cost?
The cost of a kiteboarding lesson may vary depending upon the school and instructor fees. On average, a kiteboarding lesson may cost between $100 and $300/h. While some schools can charge per lesson, others provide a complete package of six or twelve lessons, which are more convenient.
Premier kiteboarding schools such as IKO (International Kiteboarding Organization) provide 3 day to 5 day courses for beginners. They also provide private lessons for individuals or for two people per class, which can be opted for if you want to get personalized training. They also provide an introductory course, which is exclusively designed for beginners. There is another package named kite foil lesson, which helps learners to learn kiting with a foil. Here are the course fees of IKO:
3 Day Course (10.5 hours): $1200 / €1300
5 Day Course (17.5 hours): $1600 / €1800
Private Lesson: $120h / €180h
Private Lesson for Two: €280h
Introductory Course: $100 / €120h
Kite Foil Course: $150 / €200h
What are the best kiteboarding locations worldwide?
Here are some of the best kiteboarding locations worldwide:
Cabarete, Dominican Republic: This location attracts a lot of people and remains crowded with kiteboarders from all over the world.
La Ventana, Mexico: This location features a relaxed atmosphere and a friendly kiteboarding community.
Cape Town, South Africa: It has a stunning nature where there are endless downwind possibilities suitable for kiteboarding.
Le Morne, Mauritius: This offers an incredible wave riding opportunity and is a constant favorite of kiteboarders.
Jericoacoara, Brazil: Though this spot remains windy, there are endless downwind options for kiteboarders.
Isla Verde, Puerto Rico: The climate of this location in Puerto Rico is ideal for kiteboarding beginners.
Boca Grandi, Aruba: Offering an easy-going atmosphere, this location welcomes kiteboarders from different parts of the world.
Isla Blanca, Mexico: This location is perfect for kiteboard beginners who want to learn new tricks.
What are the best kiteboarding locations in the USA?
Here is a list of the best kiteboarding locations in the USA:
Oahu, Hawaii: This location has world-class waves and a beach with great board vibes.
Cape Hatteras, North Carolina: This place has a steady wind and all kinds of waves suitable for kiteboarding.
South Padre Island, Texas: This family-friendly destination is also known as an excellent kiteboarding spot.
Columbia River Gorge, Oregon: This location offers a huge variety of adventure activities including kiteboarding.
San Francisco, California: This location is ideal for advanced kiteboarders who want to try new tricks.
Corpus Christi, Texas: Offering great sightseeing locations, Corpus Christi is a great location for kiteboarding.
Key West, Florida: With consistent wind, it is one of the best flatwater riding locations across the USA.
The Jersey Shore, New Jersey: This location with big, waist-deep bays is ideal for kiteboarding beginners as well as experts.
Miami, Florida: The pristine beaches of Miami attract a huge number of kiteboard enthusiasts every year.
Houston, Texas: Featuring moderate wind and waves, it is one of the best kiteboard learning locations in the USA.