If you like water sports and have ever considered trying out an extreme water sport, then kiteboarding is one sporting activity you should never miss. Although many practice kiteboarding on land or snowy surfaces, it would be best to practice this sport on a water body. This is a cost-effective sporting activity that also offers a lot of convenience. Being an extreme sport, you have to undergo training for some time and follow a bunch of safety precautions while participating in it. When you decide to learn the basics of this sport, one of the first questions that would come to your mind is "what are the first steps in kiteboarding?"
There are 5 important steps you need to follow while trying to learn kiteboarding. You should:

– Watch and learn from videos
– Learn the process of flying a trainer kite
– Hire a qualified instructor and take some lessons
– Invest in good quality gear
– Continue learning by yourself
These steps shall help you progress steadily on the path of becoming a seasoned kiteboarder.
You could choose to take some additional lessons later but if you take these steps seriously, you will require very little training to kiteboard.
Let's now discuss the steps you need to go through to become good at this sport: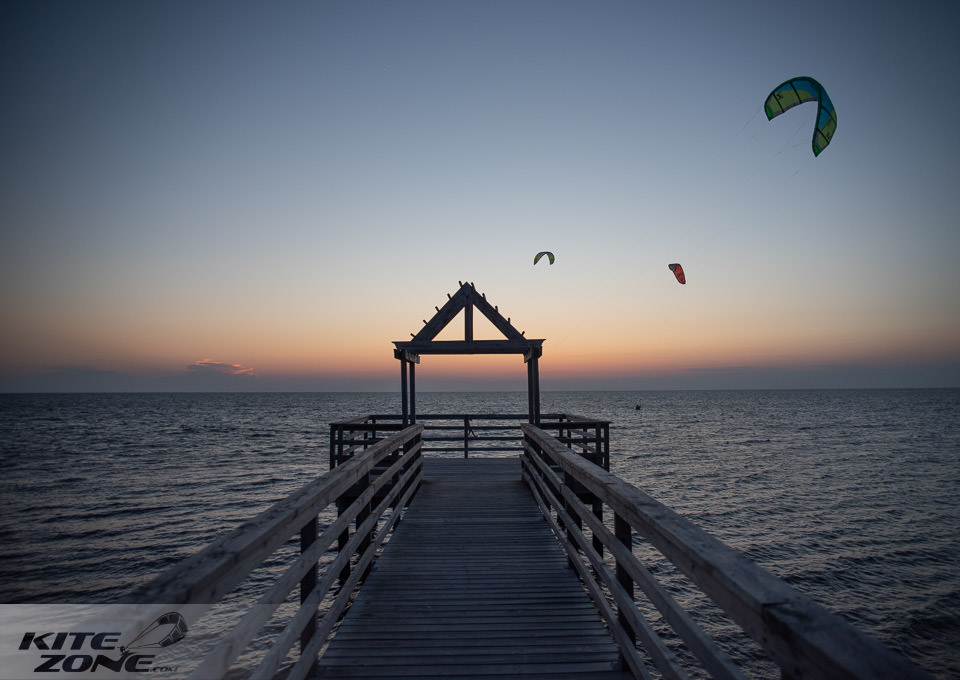 Watch and learn from videos
Before trying it out practically, you can watch online videos to learn more about the sport. While you would find many kiteboarders or kiteboarding instructors/experts putting up videos online, you must try and find the ones who seem to be reliable or experienced and know what they are talking about. Fifteen years back, when I decided to try kiteboarding, I had to buy DVDs to get access to instructional or informative videos on kiteboarding but now everything is available online. If you have some friends who are into kiteboarding, you can ask them to recommend some good channels on YouTube and other online platforms.
Do remember that you must be able to relate and follow the instructor whose videos you are watching. The instructor could have vast experience and knowledge on kiteboarding but if you are not able to understand what he or she is teaching, then you should probably try somebody else.
Watching online videos on kiteboarding will not only give you a lot of information about the sport but also help you figure out whether this is something you would like to pursue or not. Try to watch everything related to kiteboarding. From 'how to fly a kite' to 'the equipment used in kiteboarding', you must cover a range of topics before you start taking formal lessons in kiteboarding.
Below is a list of some of the best YouTube channels of this type in my opinion.
Learn the process of flying a trainer kite
A trainer kite can be best described as a meter traction kite that is 0.5-1.5 meter wide and one that enables you to get an understanding of the basic principles of kite flying before you launch a full-fledged kite on the water. A trainer kite will serve as a good introduction to kiteboarding and help you get a good hold on concepts like power zone and wind window. You need to understand these concepts properly to ensure that your kiteboarding experience turns out to be smooth and safe.
A wind window refers to the area or space where a kite can fly. A kite musters up its minimal power closer to its edge as this is where it comes in contact with the maximum amount of wind. The 'kite clock' plays a very important role in understanding wind power as a concept. To deal with the force of the wind, you have to be fully aware of the landing and launching positions of your kite.
Traction kites mostly feature 2 or 4 lines. However, there are a few 3-line models like the Ozone Ignition that resorts to the third line to ensure safety. Using a 2m2 kite would be a good idea but you have to be careful about heavy winds. If the wind is blowing very fast, even a small-sized kite can throw you off your feet.
Before you go for professional kitesurfing lessons, a trainer kite will help you get a grasp of basic kite skills. Apart from kiteboarding, these skills will prove to be useful when you go for snow kiting or mountain boarding.
Hire a qualified instructor
While self-training is fine, you must consider hiring a qualified instructor at some point to ensure that you get the right kind of training in a safe and regulated environment. Learning from a qualified instructor is also recommended to those who want to learn everything about kiteboarding as quickly as possible. If you are serious about engaging in kiteboarding, this is a step you should definitely take.
While the three steps discussed earlier will help you prepare for what you are getting into, a professional instructor will teach you what you should do when you are kiteboarding. They will also inform you about the kind of mistakes you can potentially commit while participating in this sport and the steps you can take to avoid them. As kiteboarding is an extreme water sport, it would be a little dangerous to try it out without undergoing training from a qualified instructor.
Contrary to what most people think, getting trained by a professional instructor is not an elaborate or time consuming process. If you are a quick learner, doing a 4 or 5-day course should be enough. You will be required to spend just 3-4 hours per day with your instructor to learn the ropes of this sport. Kite schools not just have qualified instructors but also the right gear or equipment required to learn or practice this sport.
When I decided to learn kiteboarding, I enrolled myself in a kite school located on the outskirts of my city and that was one of the best decisions I made in terms of learning kiteboarding. In the kite school, I had a great instructor from whom I learnt a lot and I was also able to interact with a bunch of fellow kiteboarding enthusiasts.
Invest in good quality gear
While buying gear or equipment for your kiteboarding activities, you must consider several factors including the weather conditions in the area where you will be kiteboarding. As stated earlier, one of the first things you need to buy is a trainer kite which you can use for your daily practice. In the later stages, you will be required to buy more advanced equipment. While taking professional training in a kite school, you will be provided with all the equipment you need for your practice.
After finishing your kiteboarding school, you can ask your trainer or instructor to help you prepare a list containing the names and details of all the equipment you should buy for kiteboarding. Kite, bar, seat harness, safety leash, wetsuit, helmet and a pair of water shoes are some of the things you need to buy for kiteboarding. For buying each item, there are certain things you need to keep in mind. For instance, when you look for a kite, you must ensure that it is in good condition and is devoid of any scratch or other signs of damage. While buying a wetsuit, you have to be sure about it being designed for kiteboarding and not some other sport.
Continue learning by yourself
Now you have the equipment and the basics of safe kiteboarding. Now there is nothing else to do but go for a kitespot and improve your skills by riding. It's also good to have a group of friends with whom you can practice this sport, because it's always safer in a group. So don't hesitate to meet people on the beach who are already kiteboarding.