Kitesurfing is an adventure water sport that draws many people to the beach every year. Using the power of the kite to propel across the water, riding through the waves, and jumping in the air – all these make this sport a lot of fun for kitesurfing enthusiasts. It is one of the fastest-growing water sports across the globe offering enormous opportunities to explore the fun and mystic aqua world. Both athletes and non-athletes can learn to kitesurf as it requires a very basic fitness level. If you are interested to learn this sport and are looking for an answer to your question 'Do I need a license to kitesurf', this article will help you.
Generally, you don't need any license to practice kitesurfing. All you need is proper training from an IKO licensed trainer or instructor. The IKO license is a must for the instructors and trainers who train people to kitesurf.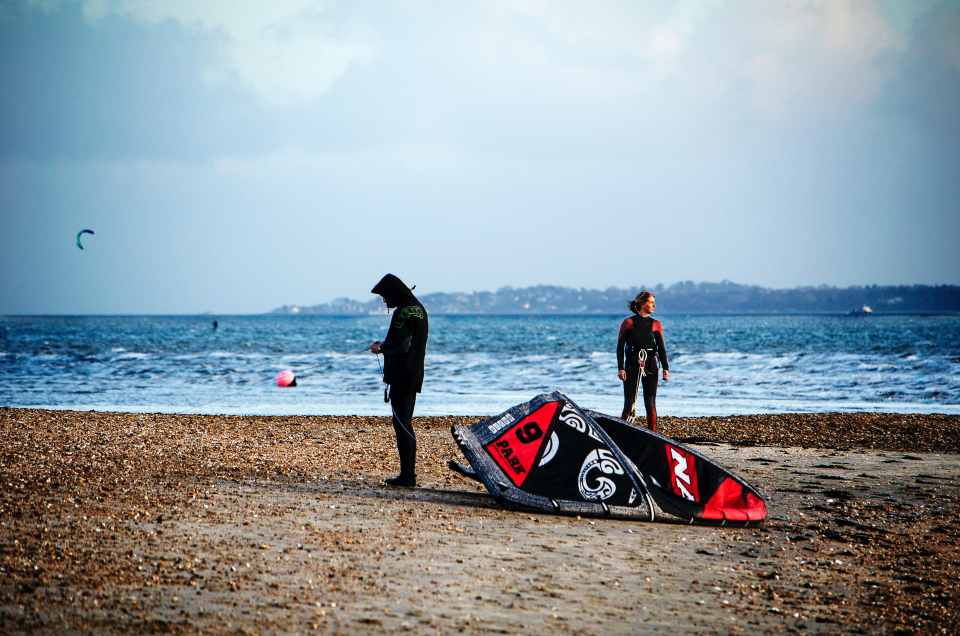 What is IKO certification?
IKO refers to International Kiteboarding Organization, which is the most renowned kiteboarding organization across the globe. This organization provides kiteboard education to a huge number of beginners to ensure safe practices. It also trains individuals with the help of its licensed instructors and offers certificates at the end of the course. It also offers certificates to kiteboarding instructors and instructiors so that they can establish a career in kiteboarding.
As the leading kiteboarding organization in the world, it focuses on meeting the highest standards required for the kiteboarding industry. IKO certification verifies the skill level of a kiteboarding practitioner and certifies the individual as a legit kiteboarder. Hence, an IKO certification can work as proof of a kiteboarder's learning and training.
What are the different types of IKO certifications?
IKO offers three types of certifications for kiteboarders, instructors, and trainers. While the first one is for recreational purposes, the second and third ones are for professional and career purposes.
The kiteboarder certificate provided by IKO has three levels such as discovery, intermediate, and independent. This certificate is only to be used for recreational purposes.
If someone wants to become an instructor, the person has to get a professional certificate. Getting a professional certificate makes a person elected as an assistant instructor, instructor, and senior instructor.
To become a instructor, one needs a instructor certificate. It makes someone eligible as a training master, an examiner, and an assistant examiner.
Should you have an IKO certification to kitesurf?
No, you don't need to have IKO certification to practice kitesurf unless you want to become a professional instructor or trainer. You can practice kitesurf independently without any license or certification from IKO. However, for kitesurfing or kiteboarding trainers and instructors, this certification is mandatory.
Though a kitesurfer doesn't need to hold an IKO certification to practice independently, there are multiple benefits that the certification offers. With an IKO certification, a kitesurfer can rent equipment while touring in other countries and fly almost anywhere the person wants to.
How to get IKO certified?
To get certified by IKO, you need to be trained by an IKO certified instructor or trainer. IKO provides certification to practitioners as well as instructors and trainers. The process of getting the certificate might take a few days as you need to get yourself enrolled under an IKO certified instructor for training purposes. Once the instructor verifies your skill and becomes satisfied with your training, you will get the IKO certificate.
Once you get the IKO certificate, you become a registered member of IKO. Your kiteboarder certification V card gets registered on their official website as well. It is a part of the training package provided by IKO. However, if your instructor or you fail to get the certification, which mostly happens when someone is unable to provide the information that is asked for, you might need to reapply. Also, to continue your kiteboarder certification V card, your license has to be in active status.
Related Questions:
How long will it take to become a kiteboarding instructor?
As mentioned by IKO, it takes five days to become a certified kiteboarding instructor. The Instructor Training Course Level 1 (ITC) includes five days of training and assessment of a kiteboarder's skill to finally certify the person as an instructor. Anyone who is an experienced kiteboarder and is passionate about the sport can apply for the certificate. The training program also assesses how well a person can share kiteboarding experiences with students.
How much can I earn as a kitesurfing instructor?
Though the payment can vary, you can earn anywhere from $40 up to $100 as a kiteboarding instructor for every two hours of teaching. The payment for a kitesurfing instructor mainly depends on the school and the number of students the person has to train. You will get a certain percentage from the school's payment and the more students you teach, the higher you earn.
For example, if the school charges $300 for a two-hour session, your income might be between $80 and $120 for that session. If you teach ten students, you may earn between $800 and $1200. The payment may depend upon the experience of the instructor.
How much can I earn as a kitesurfing instructor?
As a kitesurfing instructor, you can earn $1,000 to $3,000 depending upon the school and the number of students you train. The responsibilities of a kitesurfing instructor will be to supervise an instructor or train students as a training master. You will also need to visit the examinations as an examiner or assistant examiner. Depending on the overall experience you have, the payment may be less or more than the above mentioned amount.
Can I kitesurf in Los Angeles?
You cannot kitesurf in most places in Los Angeles because kitesurfing is partially forbidden in the state of California. The coastline until Redondo Beach does not permit anyone to kitesurf or try some other water sports. However, you still might be able to kitesurf in specific spots at Belmont, Sunset Beach, and Seal Beach. Kitesurfing on these beaches is only possible when there is no black flag.
Header photo © Yara Kinds / Unsplash