Learning of kitesurfing has drastically changed over the years with equipment efficiency and a lot of other facilities. It has begun to attract both athletes and enthusiasts of all ages from different horizons. Most importantly, the collaboration between the equipment manufacturing brands and the training institutes has made this sport very popular. If you are a kitesurfing enthusiast who is about to join this sport, I'm sure you are looking for the answers to some basic questions related to the training procedure. So, are you wondering if kitesurfing is hard to learn?
Kitesurfing is not an easy sport to learn and the time taken to start riding depends on several factors that are not always dependent on the learner. If you are brave, persistent and choose a good school to learn your first steps, there is a good chance that you will be able to learn this sport quite quickly.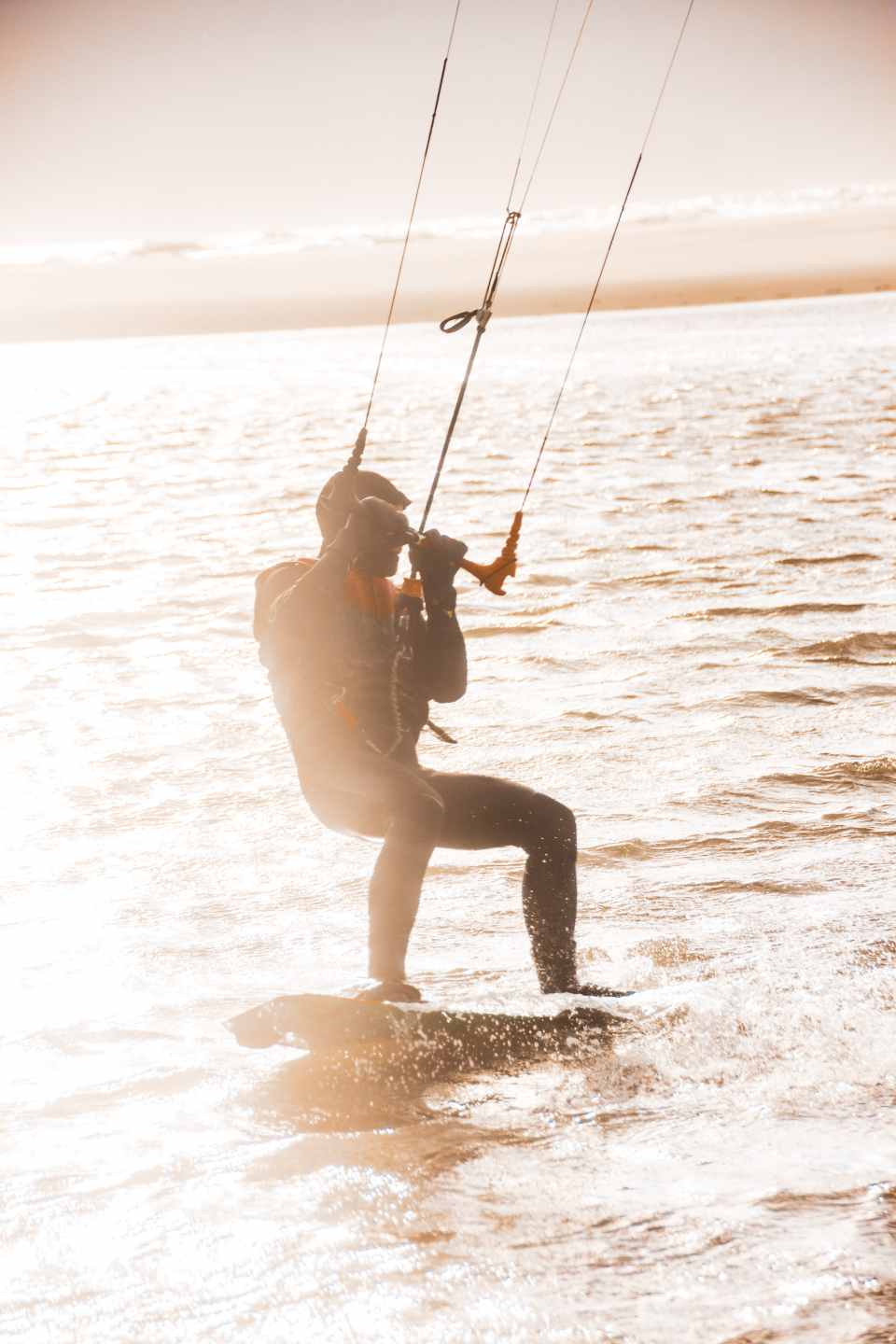 How much time would it take to learn to kitesurf?
Though the learning tenure depends on many factors, it can roughly take 4-12 hour sessions, mostly on the water. It is very difficult to assume how fast or slow you will pick up kitesurfing because there are many layers of a learning session that are dependent upon your gear, the rules, the instructor's expertise, your skills, and confidence.
The above estimation of 4-12 hours is based on the general learning capabilities of the majority of students. Otherwise, it's quite tricky to estimate how fast one can learn riding the board. While many students need more than 12 hours just to stand on the board, I cannot say that you can't ride the board with less than 6 hours of training. There are examples of such prolific learners too.
However, it is better if you do not expect to learn kitesurfing in one day. Instead of thinking about how fast or slow you can adapt an impeccable kitesurfing skill, you should focus on the minute detailing your trainer is pointing out. Knowing your strength and weaknesses will help you to learn much faster than an average learner.
What should you do to make learning kitesurfing easy?
You need to select a good school, use proper gear such as a big board and spend a good amount of time with kite on the water to make learning kitesurfing easy. Here are the explanations for your better understanding:
Select a good school: It is crucial to join a reputed kitesurfing training school if you want to excel in this sport. The reputed schools host skilled and experienced trainers who will be able to guide you through. They will teach you the best techniques of this sport.
Use proper gear: Just like any other sport, kitesurfing requires a set of training or practicing gear. Without the proper gear, it will be difficult for you to stay flexible and comfortable while learning the basics of the sport.
Spend time with kite on the water: Practice makes anything perfect and your kitesurfing learning is no exception. Spending more time with kite on the water will increase your ability to make your practice skills work in more complex situations.
How many lessons does it take to learn to kitesurf?
In general, it takes at least three lessons for a beginner to learn kitesurfing. It ultimately depends upon whether you have any prior board-riding experience or not. If you have done windsurfing or wakeboarding before and you can comfortably stand on the board, you are likely to learn it within three sessions.
If you haven't tried any water sport before and are a little nervous about trying kitesurfing for the first time, it may take more than three sessions for you to adapt the board riding skill. Some learners need ten to twelve lessons to make a full skill set of kitesurfing.
Can I teach myself to kitesurf?
Though it is not impossible to learn kitesurfing on your own, you need to take a little precaution before trying it out. Kitesurfing is one of the high-risk water sports that involve many difficulties and dangers. It requires knowledge of basic wind theory and a set of reliable equipment to start.
You need to make sure you wear the safety gear and use a trainer kite for learning purposes. Choosing the perfect day and place is another factor that you should be cautious about. Additionally, it will be beneficial if you have a kitesurfer friend around and keep a water rescue plan ready.
How much would it cost to learn kitesurfing?
The expense varies depending upon the training and gear costs. On average, the training may cost you between $500 and $1000. For the gear, it is difficult to assume the cost because there are so many varieties. It is worth remembering that schools always provide their own equipment. Here is an estimation based on usual prices, If you want to learn by yourself:
Kite: $500-$1000 (used)
Kiteboard: $300-$500 (used)
Kite Pump: $30-$60 (new)
Harness: $70-$250 (used)
Impact Vest: $60-$120 (new)
Wetsuit: $170-$350 (new)
So, the overall cost may vary between $2000 and $4500 depending upon the quality of the gear and the charges of your trainer.
Related Questions:
What kite you should use to make learning easier?
You need to start with a trainer kite which is widely available in kitesurfing gear stores or online. A trainer kite is a traction kite that measures approximately 2 to 3 meters. Before you spend time on the water, a trainer kite will help you grasp the basics of the sport such as the power zone and the wind window.
What kiteboard you should use to easily learn kitesurfing?
During the learning phase, using a twin tip board will be beneficial. It is the most common kiteboard you will see in training schools. The expert trainers recommend this kiteboard to beginners because it helps them to maintain balance easily.
Though most twin tip boards have the same shape, they come in different sizes. As a beginner, you should choose the perfect size for yourself, which may depend upon your skill level and body weight. As you progress, you might need to update your twin-tip board because your skill will improve. The most popular sizes of learning boards are 150 cm and more.
Is kitesurfing easier than surfing?
No, kitesurfing requires the same level of skill as surfing. However, it is true that learning to ride on a kite (kitesurfing) is quicker than without the kite (surfing). So, ideally, kitesurfing should take less amount of time to learn than surfing.
There is a huge debate on this question because many trainers believe that it is the other way round. It depends upon an individual's learning ability and many other facts. If you watch the two sports from the land, you may think that surfing is easier to learn than kitesurfing. In reality, both sports include a steep learning curve and a lot of other factors that determine which one is easier.
Is kitesurfing a good workout?
Yes, kitesurfing can give you a good workout depending upon your riding style and other factors such as the water condition and the wind condition. It's not necessary to be a fitness enthusiast for enjoying kitesurfing.
It is not important whether you are an athlete or not when you practice kitesurfing. People with any fitness level can try kitesurfing because the sport ultimately requires good skill and practice. If you are an athlete and want to do a little warm-up before the sport, you can work on your core muscles, calves, quads, and lower back.
Header photo © Israel Gil / Unsplash