Kitesurfing is a popular water sport that requires proper training and a set of equipment to get started. Though the first origin of this sport traces back to 1977 when Gijsbertus Adrianus Panhuise patented kitesurfing, it received recognition as a modern sport in 1995. This sport uses a kite or a parachute-like device that flies in the sky and a board that floats in the water. The rider stands on the board and controls its movement while being pulled by the kite. If you are willing to know about this sport in detail, you should be aware of the difference between kiteboarding and kitesurfing.
Generally, there is no difference between kitesurfing and kiteboarding. These two terms are used interchangeably in different horizons. The name kiteboarding is more popular in the US and kitesurfing is popular in Europe. Sometimes, kitesurfing refers to surfing the waves with a kite using a surfboard.
Is kitesurfing the same as kiteboarding?
There is a technical difference between kitesurfing and kiteboarding. Kitesurfing refers to riding on waves using a surfboard whereas kiteboarding refers to cruising around using a twin tip board. In kitesurfing, the rider has to ride the waves facing the nose forward. In contrast, kiteboarders get the freedom to have the right or left tip facing forward. For these reasons, kiteboarding seems a little easier than kitesurfing. Whether the beginners want to learn kitesurfing or kiteboarding, the rule is to always begin with a twin-tip style board.
The term kiteboarding is mainly used across the USA to refer to the same sport as kitesurfing. In the USA, kiteboarding is one of the most popular water sports that attracts a lot of people. Some of the best kiteboarding destinations in the USA are Hood River, Maui, Kailua-Kona, and South Padre Islands.
The majority of people in Europe use the term kitesurfing to mean the same water sport as kiteboarding. However, experts suggest that kitesurfing is not exactly the same as kiteboarding because there are slight technical differences. Some of the popular kitesurfing destinations in the UK are Rhosneigr, Tiree, Camber, and Lancing.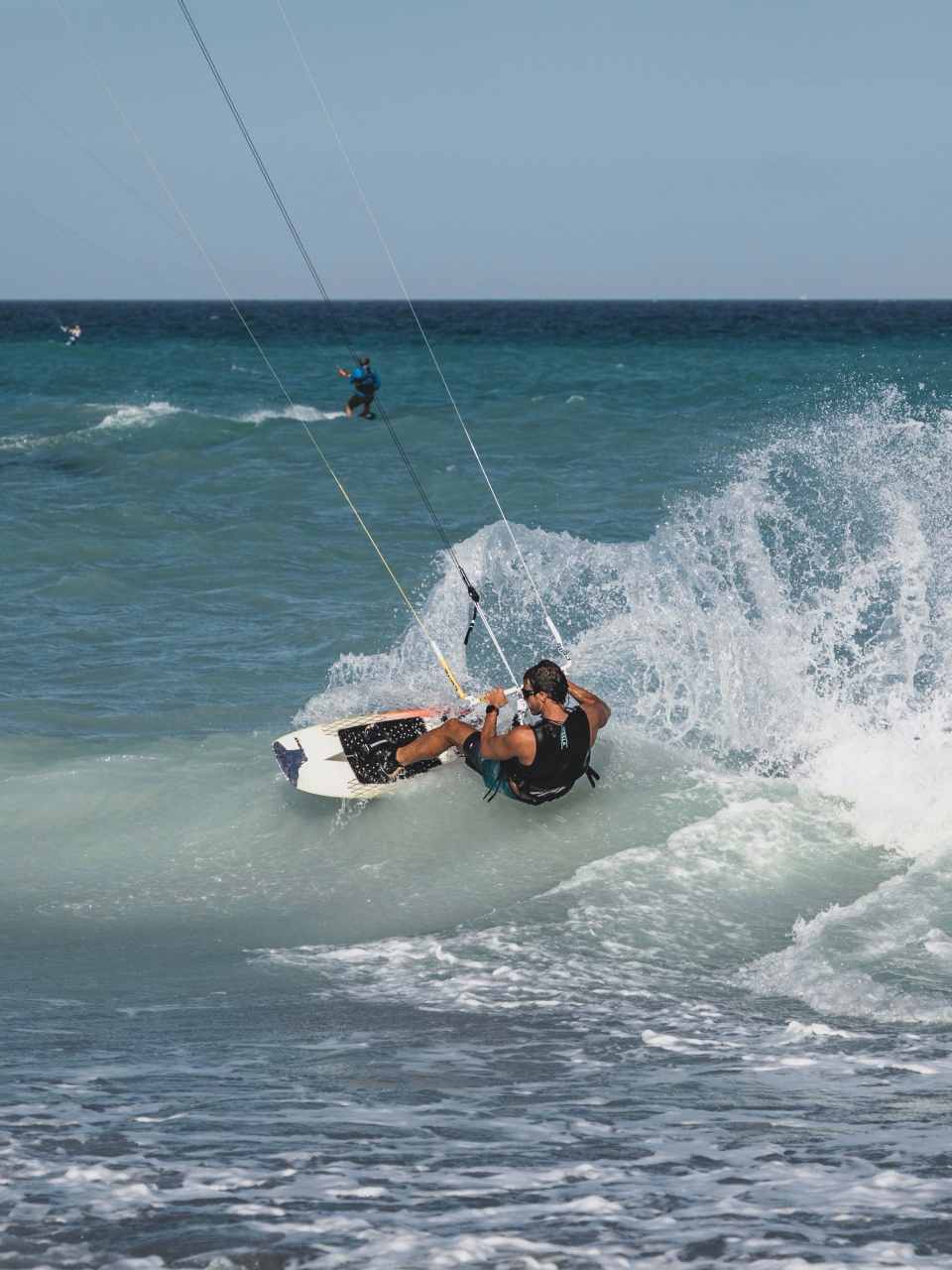 Is kiteboarding easier than kitesurfing?
Though kiteboarding and kitesurfing mean the same sport, experts say kiteboarding and kitesurfing technically differ based on the rules, technique, and equipment. Kiteboarding uses twin tip boards and follows certain techniques that are easier to learn and perform when compared to kitesurfing. Kitesurfing involves a lot of practice on controlling the surfboard while being propelled by the kite, which is difficult at the beginning. For all these reasons, kiteboarding seems to be an easier sport than kitesurfing.
Most lessons on kitesurfing are initiated with kiteboarding techniques, which include riding on a twin tip board. If learning kitesurfing is your ultimate goal, then I would recommend you to learn kiteboarding first as it's a better idea. It will help you to learn the basics of the sport easily.
Should you be physically strong to kitesurf?
Athletes or physically strong individuals find it easier to learn any sport due to their agility and balance control. However, it is not necessary to be physically strong to learn to kitesurf because the technique of this sport doesn't demand it. The harness that you wear around your waist takes the traction from the kite, which doesn't require any extra physical strength. However, if your core muscles are very weak, you may need to do a little warm-up before trying this sport. Kitesurfing is a good way to tone your muscles and improve your physical strength.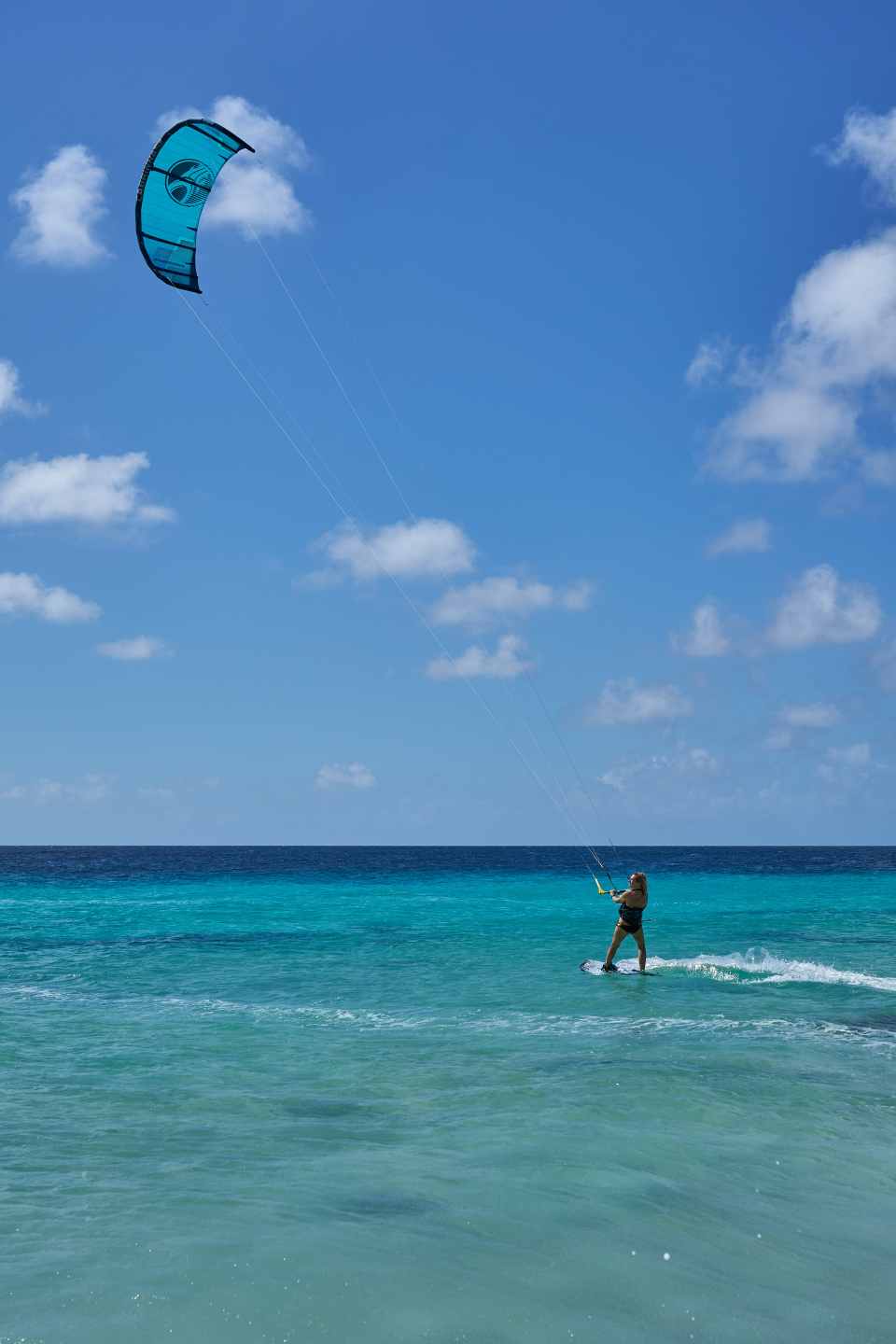 Related Questions:
What are the various disciplines of kiteboarding?
Kiteboarding is a multidisciplinary adventure sport that can be played either in the water or on the ground. The only constant element required for this adventure sport is the wind. Here are some disciplines of kiteboarding that you should know about.
Wave kitesurfing / Kitesurfing
It is all about riding on waves with kites. Hence, the goals of this sport are similar to surfing.
Strapless kitesurfing
Without strict rules and limits, strapless kitesurfing combines kitesurfing, big air, and freestyle.
Speed kiteboarding
This discipline of kiteboarding focuses on achieving the maximum speed on 500-meter courses.
Freestyle kiteboarding
It is a very popular discipline that uses many tricks while getting propelled by C kites.
Boardercross kiteboarding
Also known as Slalom kiteboarding, it includes competitions among the athlete boarders.
Big air kiteboarding
This one is the most thrilling discipline that uses many complicated maneuvers in the air.
Landkiting
Landkiting is another name of this discipline, which uses land boards to ride kites on solid grounds.
Snowkiting
Similar to skiing, this discipline is all about riding slopes like waves on the snowy mountains.
Course racing
This discipline uses hydrofoil boards and includes competitions among boarders based on speed and maneuvers.
Kite Buggying
It uses traction kites to board on the solid ground and then get airborne to perform difficult tricks.
Will I find kitesurfing easier than surfing?
The answer may vary from one individual to another. Many practitioners, as well as experts, believe that kitesurfing is easier than surfing and it takes less time than learning surfing. The reason for their belief is that kitesurfing uses some techniques that are easier to grasp than surfing. Anyone willing to learn kitesurfing can adapt its techniques by attending only six to twelve lessons.
However, experienced kitesurfers may not agree that kitesurfing is very easy or that it takes less time than other water sports. Most of them believe that it takes a lot of time and hard work to master the art of kitesurfing.
What makes kitesurfing fun?
Kitesurfing is quite fun because of the thrilling experience it gives. While being propelled by a kite, you will get fresh air. As you ride on the surfboard, you will learn a lot about balance and coordination.
Header photo © Uniqsurface / Unsplash